151X151 Phoenician Denim on Dover White
White/Grey, Ceramic Matt Floor tile.
PHONE NOW FOR BEST PRICE. CALL 0800 302 9996 AND SPEAK TO OUR SALES STAFF.
A gracefull, modern design from Original Style that belies it's early origins.
This design with it's graceful circular pattern would look very grand installed in a large hallway, as well as in more intimate locations such as a bedroom and en suite bathroom.
Although it looks beautiful alone it is further enhanced with the addition of a border.
Also available in dark grey, light blue and dark blue and Jade.
Due to the extensive number of Original Style products available at Branded Tiles we can only show a selection of our favorite products in each range to view. If you are looking for an Original Style tile that is not shown then please phone our sales team on 0845 872 2203 or via the contact form for a quotation and the best possible price.
Brand
Odyssey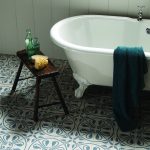 Original Style