151X151 Victorian Black Square Floor Tile
Black, Ceramic Matt Floor tile.
PHONE NOW FOR BEST PRICE. CALL 0800 302 9996 AND SPEAK TO OUR SALES STAFF.
Up to now the natural partner and most obvious choice for Artworks wall tiles has been Original Style Victorian flooring, as both can trace their roots back to the elegant Victorian era. However, these beautiful floor tiles are an extremely attractive alternative.
Victorian Floor tiles from Original Style are a practicle solution for bathrooms and especially for any small space, and are perfect when used with underfloor heating.
This 6″ Black Victorian floor tile is also available in white with co-ordinating half tiles, triangles and decorative borders. When used together, whether your room is large or small, the design possibilities are endless.
Due to the extensive number of Original Style Artwork products available at Branded Tiles we can only show a selection of our favorite products in each range to view. If you are looking for an Original Style tile that is not shown please phone our sales team on 0845 872 2203 or via the contact form for a quotation and the best possible price.
Brand
Artworks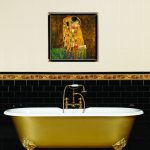 Original Style