151X151 Romanesque Dublin and Black on White
Black/White & Grey, Ceramic Matt Floor tile.
PHONE NOW FOR BEST PRICE. CALL 0800 302 9996 AND SPEAK TO OUR SALES STAFF.
This whimsical pattern is like a sample of exquisite embroidery or a star motif from a filigree lamp.
A design also loosley inspired by intricate lace and needlework as well as metalwork and jewellery, Romanesque from Original Style comes in seven colour ways, from dramatic grey on black to light blue and grey on white.
It looks stunning everywhere, from a courtyard to a hallway.
Due to the extensive number of Original Style products available at Branded Tiles we can only show a selection of our favorite products in each range to view. If you are looking for an Original Style tile that is not shown then please phone our sales team on 0845 872 2203 or via the contact form for a quotation and the best possible price.
Brand
Odyssey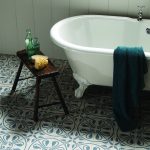 Original Style