900X300 Covent Concept Beige Decor
£6.75£10.81
£25.00per m²£40.04per m²
Beige, Ceramic, Decor, Matt Wall tile
How many do you need?
You can purchase our tiles by either quantity or square meters. Simply specify the required quantity or square meters and the calculator will update the results.
Our next generation is full of texture and character, A Beige Ceramic Decor wall tile, with a Matt finish will look stunning as a feature wall with our coordinating wall tile.
Also available in White.
Brand
Covent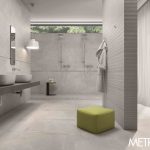 Metropol