Developed for exceptional workability
Genuine S1 Flexibility, suitable for a wide range of substrates
Suitable for fixing ceramic, porcelain, natural stone and mosaic tiles
Ideal for plywood overlay substrates
Ideal for underfloor heating systems
Walk on and grout after 3 hours
100% extra coverage per kg over traditional sand/cement adhesives
Excellent coverage and slip resistance, perfect for fixing large format tiles
At least 50% lighter per m2 than traditional sand/cement adhesives
Reduced carbon footprint
3mm – 12mm bed depth
Internal & External use
TILES:
Ceramics Porcelain Marble Travertine Limestone Slate Granite Terracotta Mosaics Quarry
Developed for exceptional workability
Genuine S1 Flexibility, suitable for a wide range of substrates
Suitable for fixing ceramic, porcelain, natural stone and mosaic tiles
Ideal for plywood overlay substrates
Ideal for underfloor heating systems
Extended pot life of 3 – 4 hours, ideal where longer working times are required
100% extra coverage per kg over traditional sand/cement adhesives
Excellent coverage and slip resistance, perfect for fixing large format tiles
At least 50% lighter per m2 than traditional sand/cement adhesives
Reduced carbon footprint
3mm – 12mm bed depth
Internal & External use
TILES:
Ceramics Porcelain Marble Travertine Limestone Slate Granite Terracotta Mosaics Quarry
A powdered flexible multi-purpose gel adhesive for bonding all types of material, on all substrates, and for all use, even in extreme conditions.
20KG Tilemaster Anhyfix Gypsum Based, Flexible Rapid Setting Floor and Wall Adhesive
Tilemaster White Thick Bed Slowset is a Flexible Floor Tile Adhesive for Ceramics, Porcelain, Marble, Travertine, Limestone, Slate, Granite, Terracotta, Mosaics and Quarry Tiles
Kerakoll Bio Fast Rapid Grey Tile Adhesive is suitable for internal and external wall and floor tiles including Porcelain, Ceramics, Large Formats, Low thickness Slabs and Natural Stone.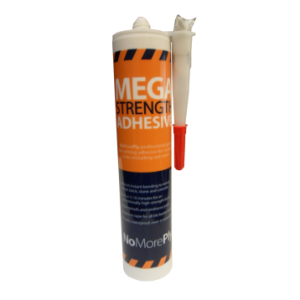 Brands
STS
Sale
Polyurethane adhesive which is recommended for fixing NMP boards in conjunction with NMP screws.
Coverage approx 5-8 NoMorePly Boards
Sets in 5 minutes
Tilemaster White Rapid Setaflex is a Flexible Rapid Setting Floor & Wall Tile Adhesive for Ceramics, Porcelain, Marble, Travertine, Limestone, Slate, Quartz,
Tilemaster White Light Weight Rapid is a Flexible Standard Setting Light Weight Wall & Floor Tile Adhesive for Ceramics, Porcelain, Marble, Travertine,
Tilemaster Grey Rapid Setaflex is a Flexible Rapid Setting Floor & Wall Tile Adhesive for Ceramics, Porcelain, Marble, Travertine, Limestone, Slate, Quartz,