A stronger partition walling material than plasterboard, 12mm should be your first choice in wet areas.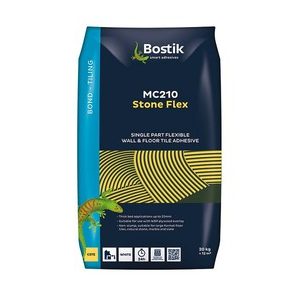 Sale
White Cement Based Slow Setting Tile Adhesive
20KG Tilemaster Anhyfix Gypsum Based, Flexible Rapid Setting Floor and Wall Adhesive
Tilemaster White Thick Bed Slowset is a Flexible Floor Tile Adhesive for Ceramics, Porcelain, Marble, Travertine, Limestone, Slate, Granite, Terracotta, Mosaics and Quarry Tiles
A powdered flexible multi-purpose gel adhesive for bonding all types of material, on all substrates, and for all use, even in extreme conditions.
Kerakoll H40 ECO Rapid Grey Tile Adhesive is suitable for internal and external wall and floor tiles including Porcelain, Ceramics, Large Formats, Low thickness Slabs and Natural Stone.
STS TORX HEAD NoMorePly Screws
Box 200
Polyurethane adhesive which is recommended for fixing NMP boards in conjunction with NMP screws.
Coverage approx 5-8 NoMorePly Boards
Sets in 5 minutes
38mm TORX HEAD NoMOrePly Screws
Box 200
NoMorePly Primer is a Premium Latex based Waterproof Primer.
Kerakoll Primer A Eco develops an isolating, cohesive film which neutralizes the expansive chemical reaction of gypsum or anhydrite based substrates before contact with mineral mortors and adhesives.
NoMorePly is a fibre cement board which can be used in numerous building applications.