600X300 Statuario Mercury Carrara Polished
£3.21£5.83
£17.83per m²£32.39per m²
Porcelain marble effect wall tile that gives the look of natural stone.
How many do you need?
You can purchase our tiles by either quantity or square meters. Simply specify the required quantity or square meters and the calculator will update the results.
Statuario Mercury Carrara is a polished full bodied porcelain wall tile with a marble effect pattern that gives the appearance of natural stone.
Also available in a 600X600 co-ordinating floor tile.
Brand
Porcelain Tiles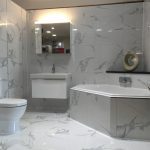 Statuario Carrara