600X600 Quarz Gris
£6.30£12.59
£17.50per m²£34.97per m²
Grey, Porcelain, Matt Floor tile.
How many do you need?
You can purchase our tiles by either quantity or square meters. Simply specify the required quantity or square meters and the calculator will update the results.
Quarz Gris from Spanish manufacturer Metropol is a large format matt rustic effect porcelain floor tile.
Also available in matching wall tile.
Brand
Metropol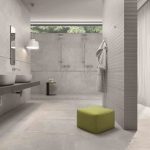 Quarz